GROUNDWATER RELIEF VALVES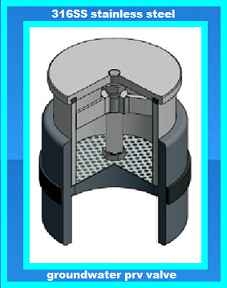 GROUNDWATER PRESSURE RELIEF VALVE - (FLOOR & SIDEWALL MOUNT)
A Groundwater Pressure Relief Valve is also commonly known as a Hydrostatic Pressure Relief Valve.
The Qwater groundwater pressure relief valve (GWPRV) is Australian designed and engineered from quality 316 SS stainless steel machined components and includes a high density PVC socket for years of trouble free operation.
The Qwater groundwater pressure relief floor mount valve can easily be fitted into place and made flush with the concrete tank floor height providing a smooth and trip free surface. A bonus when ongoing maintenance personnel and equipment are operating in these confined spaces on a regular basis.
---
Qwater floor mount PRV valve sizes include:
NB100 (dia) (4") - Pt# GWPRVF100

NB150 (dia) (6") - Pt# GWPRVF150
FLOOR MOUNT - GROUND WATER PRESSURE RELIEF VALVE
---
The Qwater groundwater pressure relief sidewall mounted valve can also be easily fitted into place and would usually be better installed at a slight upward angle of approx 5-10deg for added positive sealing. The valve is required to be installed partially away from the vertical sidewall surface allowing for the positive sealing over-centre hinge design.
Qwater sidewall mount PRV valve sizes include:
NB100 (dia) (4") - Pt# GWPRVS100

NB150 (dia) (6") - Pt# GWPRVS150
SIDEWALL MOUNT - GROUND WATER PRESSURE RELIEF VALVE
---
In-ground tanks, collection sumps, swimming pools;......... just about any in-ground tank arrangement can be subjected to large up-swelling groundwater pressure, due to a rapidly rising water table situation brought about by heavy rainfall or high tides etc. - all this water pressure dynamics trying to push the in-ground tank upwards to the surface.
An in-ground tank installation is usually at its most vulnerable point, when the liquid volume inside the in-ground tank is at its lowest level, making the tank light and offering little resistance to the water pressure dynamics taking place below the surface. A situation that always occurs at the least unexpected moment!
HOW DOES A GROUNDWATER PRESSURE RELIEF VALVE WORK?
Answer....Dynamic downward and sideway liquid forces at work inside the in-ground tank ensures a positive and secure seal of the groundwater pressure relief valve's two mating surfaces via the use of "O" rings; however when conditions of extreme upwards or sideways water pressure is exerted on the outer parts of the in-ground tank, then the positive seal is broken and allows the excessive outer-tank water pressure to be directed to the inside of the in-ground tank and then the pressure relief valve reseals after the pressures have equalized.
If you have old worn out groundwater pressure relief valves already in place; these too can be easily updated with the Qwater SS/PVC (GWPRV) valves. Simply remove the old valves from their tank floor or sidewall position and select a new Qwater GWPRV valve size that is appropriate for your application and re-grout into place.
Install our specially engineered Groundwater Pressure Relief Valve (GWPRV) when pouring your next concrete in-ground tank sump to get great performance and peace of mind on your project.
Whether your project requires a quantity of x1 or x50........let our performance at Qwater deliver the groundwater pressure relief result you need.
Best products
-
Best performance
-
Best price
.
Give one of our sales staff a call and let us "handle all the pressure for you" !
Please note........Qwater's groundwater pressure relief valves have been specifically designed for either a horizontal in-ground tank floor installation or vertical side wall installation ..... the correct selection and installation of your PRV valve is necessary for best results.