1- WATER CANNONS | MINING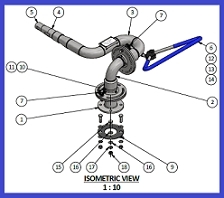 MASTER BLASTER
The next generation of 316SS stainless steel Heavy Vehicle Water Cannon has arrived!
Superior design with functionality, combined with supreme robust strength and great washing performance is our Master Blaster water cannon that will satisfy all your heavy fleet vehicle cleaning needs.
---
MINING TRUCKS - TRUCKING FLEETS - TRAIN FLEETS - SHIPPING - FIRE FIGHTING
---
Q water's Master Blaster water cannon is based on extensive field customer experience and feedback, engineering excellence and finally we think brings a sense of style to your business operations.
You and your staff will want to get behind one of our Master Blaster water cannons........to feel the quality.......smoothness........and power of water delivery from either a straight jet or fan/jet combination nozzle.
Multiple water flow options are available to conserve water and pump energy and are just a few key benefits; while additional operator comfort and minimal maintenance have also been winners in this new design.
All the best features you have talked about are built right here into the new generation Master Blaster QW-WCL65/80.
Key Design Features Include:
65mm waterway
Work Pressure 10.0bar
316 SS Sch40 HD construction
HD Swivel Joints – no bearings
Silicon Handle grip – operator comfort
Counter Balanced – reduces fatigue
Handle Position Site Adjustable
Articulation Site Adjustable
Articulation Locking Knobs
Multiple Nozzle Flow Rates
Straight Jet Stream Shaper
Handles most water types
Standard 1yr warranty
These serious water cannons are for when the financial stakes are high and you need total reliability from your clean truck or train fleets to advance your business towards everyday profitability.
So lean on our water cannon and it will allow your business to sparkle.
Our engineers have been part of earlier pioneering water cannon design and implementation teams in Australia with, and we have encompassed this knowledge into a new generation of water cannon designed from the ground up to especially cater for the rigors of the mining industry.
You do not have to be in the mining industry to enjoy our design, craftsmanship and style; you just need the will to have the best clean fleet in town……..install the Master Blaster ……for an ear to ear appreciation grin!
Let our 14 years of industry experience become your business partner - choose your new next generation of water cannon for your business from Q water…….it's Better…….it's also the VERY BEST.
Talk to us as we would like to watch you smile.
WATER CANNON - MINING - 316SS - "JETEX BLASTER" 50mm - BROCHURE
WATER CANNON - MINING - 316SS - "MASTER BLASTER" 65mm - BROCHURE